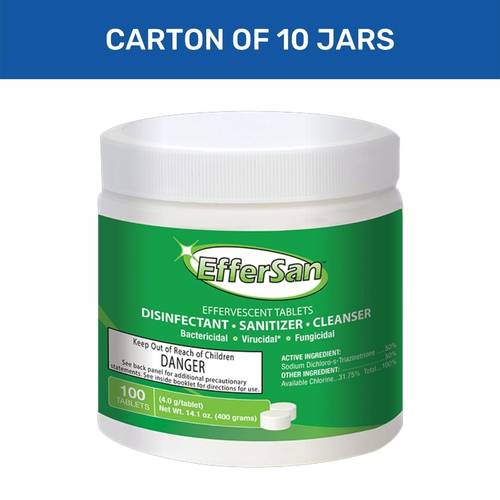 Effersan
EfferSan 100 Count - Carton of 10 Jars
EfferSan is a highly effective, multi-purpose disinfectant and sanitizing tablet. Drop the tablet in water, and once it's dissolved, you'll have a non-irritating, no-rinse solution that is powerful enough to kill parvo and many other pathogens. Spot cleaning just got easier!
EfferSan 100 Count - Carton of 10 Jars
Ask about this product
Detailed Description

EfferSan is a concentrated disinfectant tablet that dissolves in water to create a hospital-grade disinfectant solution. One tablet provides 1,300 PPM or 32oz of disinfectant spray solution that kills viruses, bacteria, and fungi that cause healthcare associated infections on hard surfaces.


Kill Claims

Disinfects hard, non-porous surfaces with a 5 minute contact time:

• SARS-CoV-2
• Staphylococcus aureus (MRSA)
• Pseudomonas aeruginosa
• Salmonella enterica
• 2009-H1N1 Influenza A virus

Features and Benefits:

• 1000 tablets makes 1000 quart-sized bottles of hospital-grade disinfectant solution.

• EfferSan is virucidal, bactericidal, and fungicidal.

• EPA Registered Disinfectant and EPA List N approved, with 5 minute contact time for SARS-CoV-2 (COVID-19).
• EPA-registered Food and Beverage Sanitizer that kills 99.999% of bacteria in just one minute.
• EfferSan tablets can also perform as a great laundry sanitizer and deodorizer for scrubs, bedsheets, towels, and other fabrics.
• Dry tablets maintain efficacy for 3 years. Diluted tablets are effective for 2 weeks.
• Formulated in small batches with pure ingredients - no stabilizers or additives.
• No added scents or perfumes.
• Neutral pH level and non-hazardous when diluted.
• No rinse required at sanitizer strength.