Jul 7, 2017
H3N2 Canine Flu 2017: Animal Care Pro's Guide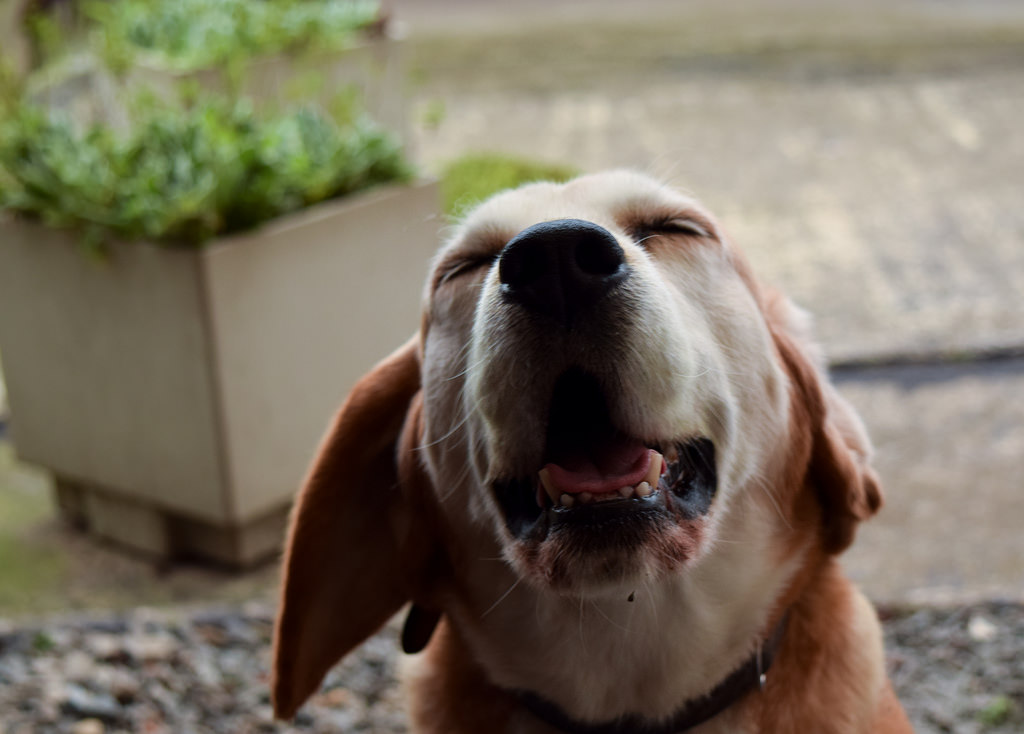 Cases of H3N2 CIV or "dog flu" have already been reported in eight states in 2017. Though it is rarely fatal, veterinarians are urging dog owners get H3N2 flu vaccines to prevent a wide scale dog flu outbreak. Coughing, sneezing, fever, lethargy, eye discharge, and reduced appetite are the primary symptoms of H3N2.

Currently the outbreak is mostly in the Southeast United States, after originating at a dog show in Georgia.
What You Need to Know About the Dog Flu
H3N2 is spread through coughs, sneezes, and nose to nose contact. It can spread from dogs to cats. Most dogs recover in 2 - 3 weeks, but precaution should be taken in young and old dogs. H3N2 symptoms are similar to kennel cough and other upper respiratory infections, which makes diagnosing tricky. Diagnostic tests are available and they are critical because the virus continues shedding for 26 days.
According to the American Veterinary Medical Association fatalities are rare and happen in less than 10% of occurrences. Usually deaths only occur when the animal has the severe form of the illness (like pneumonia).
Last week, during a Facebook Live Q&A Dr. Cynda Crawford (D.V.M., Ph.D., the Maddie's Clinical Assistant Professor of Shelter Medicine at the University of Florida College of Veterinary Medicine) urged dog owners and veterinarians to consider vaccinating their dogs, especially dogs that are very social, travel frequently, or are boarded kennels or doggy day cares.
Besides likely preventing the individual dog from catching the flu, it creates herd immunity protecting other dogs who cannot be vaccinated.
As Dr. Cynda Crawford reminded viewers, "Vaccinations are much cheaper than hospitalization."
There is no vaccine for cats at the moment, but H3N2 can spread to cats. No evidence exists that it can spread to humans.
Here is what animal care professionals can do to protect their communities
Educate Dog Owners About the Canine Flu
Let owners know that H3N2 vaccinations are available and encourage them to vaccinate dogs. Teach them dog flu symptoms, and what to do if their dog shows signs of H3N2.
We made this poster to help educate dog owners. Download a printable version here, and share it on Facebook or Twitter.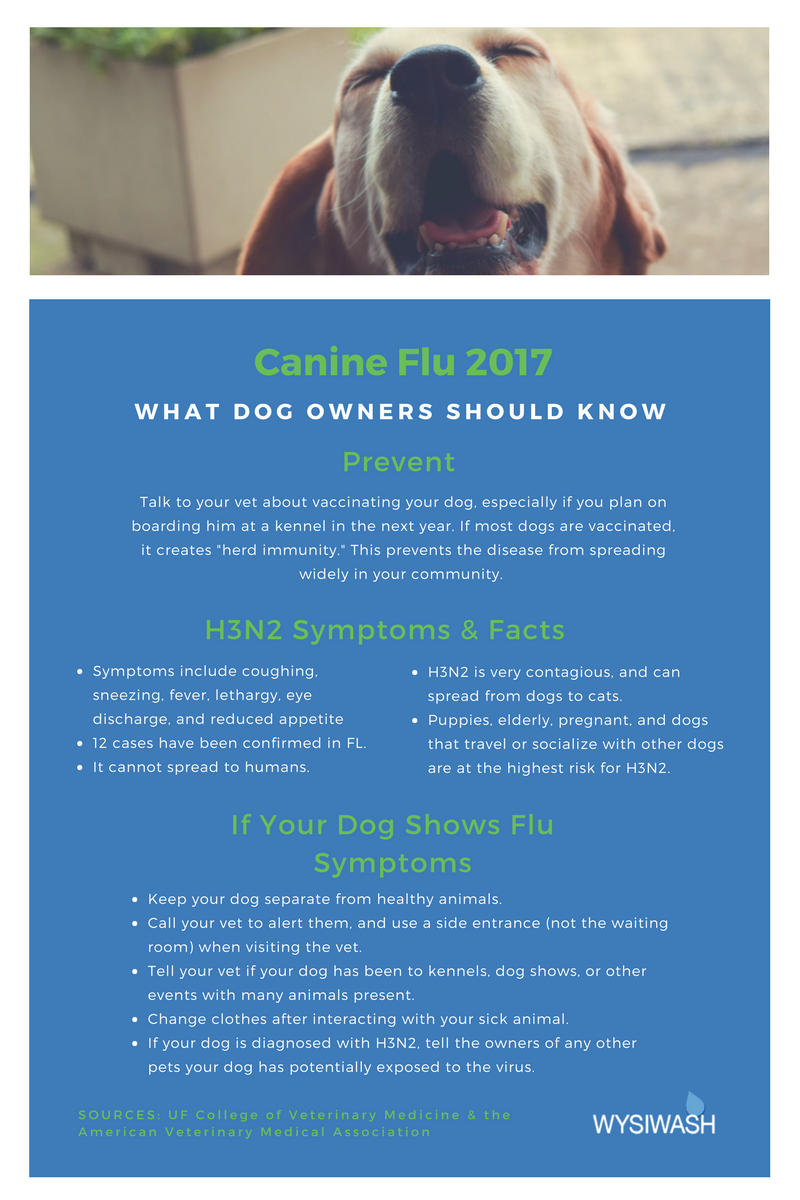 Canine Flu Symptoms
Coughing and sneezing
Fever
Lethargy
Eye discharge
Reduced appetite
Vaccines for H3N2 Canine Flu
Canine flu vaccinations are currently available, though owners may want to call ahead to confirm with their vet. The vaccine requires two doses for maximum effectiveness. If a dog is being adopted who has not had the second dose, make sure there is a plan for following up with the owner to ensure that it is completed.
If you run a kennel or doggy day care, consider requiring dogs to be vaccinated. We also encourage you to tell owners what your disinfection protocol is to reassure them that you are taking steps to protect their animals.
Screen & Test to Prevent Dog Flu Outbreaks
One dog with the flu is enough to cause an outbreak. To avoid this, Maddie's® Shelter Medicine Program at UF is advising shelters to ask owners surrendering dogs if they have had any of the symptoms of H3N2 CIV—or if the dog has been around sick dogs. If so, they should ask the owner to isolate and monitor the dog before surrendering.

Dogs with respiratory issues, coughing or other canine flu symptoms should be isolated and tested for H3N2 CIV. If possible, move dogs with symptoms off-site to avoid accidental contamination.
Maddie's® Shelter Medicine Program at UF also advises special care be taken with dogs imported from South Korea or China. Quarantine these dogs for at least two weeks to ensure that they are clear of H3N2 symptoms.
Educate Your Staff About H3N2
According to the University of Florida Veterinary Medical School, "The virus will stay on clothing and hands from 8 - 24 hours—make sure to practice proper hand hygiene." If you haven't already, require staff to change clothing after interacting with sick animals. EfferSan can be used to sanitize clothing and bedding.

Be sure your staff is well informed on the symptoms, risks, and protocols for H3N2. UF has a number of great resources for shelters, veterinarians, and pet owners. They are also providing updates as new information becomes available.
Chlorine products are effective against H3N2. You can continue to use Wysiwash and EfferSan to sanitize your kennels. Take special care disinfecting intake and quarantine areas.
We encourage you to review disinfection protocols, as well as quarantine and outbreak procedures with your staff. For advice on disinfection protocols, feel free to call Larry at (866) 627-6284.
Knowledge is power. With an informed public, well-trained animal care professionals, proper disinfection protocols, and vaccination, hopefully these cases of H3N2 will be isolated and not rise to the level of an outbreak.
Sources
American Veterinary Medical Association
https://www.avma.org/KB/Resources/Reference/Pages/...
University of Florida College of Veterinary Medicine
http://hospitals.vetmed.ufl.edu/canine-influenza/
and