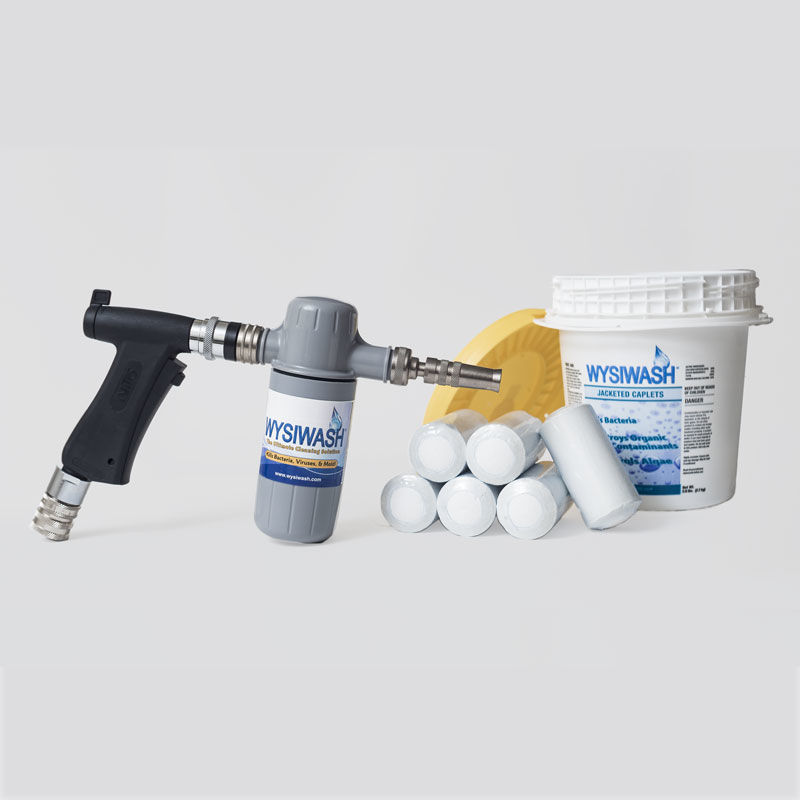 Wysiwash
Sanitizer Pro and 9-Pack of Jacketed Caplets
Features a Danish-designed handle with an ergonomic grip and locking trigger, for increased comfort and control
EPA-Registered solution kills viruses, bacteria, and fungi, plus controls mold and algae
Pre-mixed Jacketed Caplets are eco-friendly, biodegradable, and non-hazardous to humans and animals
Includes: Wysiwash Sanitizer Pro Hose-End Sprayer, 9-Pack Jacketed Caplets, Owner's Manual, 1-Year Warranty
Sanitizer Pro and 9-Pack of Jacketed Caplets
Buying in Bulk?
Ask about this product
Detailed Description

A Superior Hose-End Sprayer

Designed with feedback from kennel owners, turf managers, and janitorial engineers, the Wysiwash Sanitizer Pro adds functionality, increased performance, and improved durability to the already outstanding Wysiwash line of products. Whether you need to sanitize concrete, metal, plastic, artificial turf, gravel, or wood, Wysiwash's environmentally-friendly solution won't cause corrosion.

Sanitize Large Areas Fast

The Wysiwash Sanitizer Pro and Jacketed Caplets are designed to save you time and money. Simply attached the Sanitizer Pro to an average garden hose and spray away. One Jacketed Caplet insert can provide up to 3.5 total hours of consistent sanitation spray, all at once or by reuse. At less than a penny per mixed gallon, the Wysiwash Sanitizer Pro provides safety and reliability at an exceptional value.

TECHNICAL INFORMATION

We take our customer's safety very seriously. Wysiwash has had extensive testing to ensure its effectiveness and safety. For any questions regarding how these tests were conducted or about how to best use Wysiwash, please contact us and we'd be happy to answer your questions.

The active ingredients in Wysiwash has been shown in numerous tests to be effective against:

Parvovirus
Distemper
Coronavirus*
Giardia
Leptospira
Listeria

Feline Herpesvirus
Canine Parvovirus
Feline Calicivirus
Feline Panleukopenia

MRSA

Hepatitis Virus

E. Coli

Salmonella
Swine Flu
Avian Influenza

Active Ingredients

The Wysiwash Jacketed Caplets are made of a concentrated solution of calcium hypochlorite, which is a compound made from chlorine, calcium, and oxygen. Calcium hypochlorite is commonly used to disinfect drinking water and public swimming pools. With naturally occurring chlorine as one of the main ingredients, our solution is eco-friendly, biodegradable, and non-hazardous to both humans and animals.

Part Descriptions: Sanitizer Pro

A. Adjustable Nozzle Changes the stream emitted from a gentle mist to a targeted stream

B. Hydro Seal Prevents leaking by securing the Caplet Container to the Hydro body

C. Caplet Container Holds the Wysiwash Jacketed Caplets

D. Hydro Body Regulates the amount of water that goes into the caplet container

G. Nozzle-End Female Quick Connector Attaches the Wysiwash Hydro Body to the Sanitizer Pro Handle

H. Pressure Lever Adjusts the water pressure

I. Hydro Body Connector Attaches to the Hydro Body and connects with the Nozzle-End Female Quick Connector

J. Trigger Release Button Press to unlock the trigger and stop the water flow

K. Handle Trigger Press to allow water to flow through system. Automatically locks for easy sanitizing

L. Hose-End Female Quick Connector Connects the Sanitizer Pro to a standard garden hose

M. Male Nipple Provides a connection point from the Sanitizer Pro Handle to the Hose-End Female Quick Connector

N. Detachable Pro Nozzle Attaches to the Sanitizer Pro Handle to provide pressurized fresh water

Wysiwash Jacketed Caplets: The jacketed caplets are concentrated calcium hypochlorite—a proven disinfectant/sanitizer. NOTE: Do NOT remove the plastic jacket from the caplet. If the plastic jacket has been removed or damaged, dispose of the caplet.